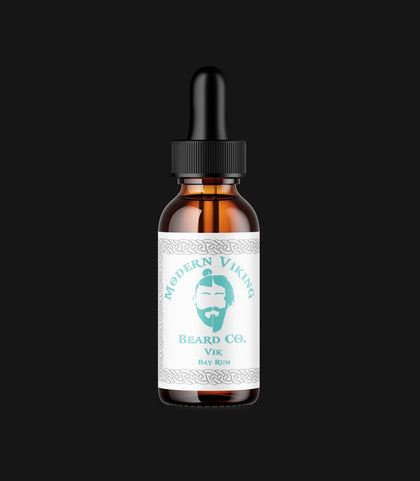 All Natural Ingredients
Apricot Oil, Avocado Oil, Coconut Oil, Grape Seed Oil, Jojoba Oil, Vitamin E, and Essential Oils
1
Use supplied dropper to apply beard oil
2
Place half the dropper's oil in your palm (shorter beards use less)
3
Rub the oil into your palms and apply to your beard
4
Use your comb, fingers, or brush to style your beard to perfection
Great scent
I love the bay rum scent. It is by far my favorite. I love how shiny it makes my beard and how soft and easy comb it makes it.
Perfection
This stuff is amazing!!!! It smells absolutely wonderful, it makes my husband's beard feel so crazy soft, his beard now glistens like a unicorns mane, and it keeps his skin from being itchy. I literally have nothing bad to say. Vik is our favorite scent so if you're on the fence please just try it. You will not regret it. Trust me, my husband has been using this for a year now.
Smells great
VIK (bay rum) scent is my favorite smelling beard oil. It's a clean fresh scent leaning towards soap more than perfume. The only criticism I have is not about the product, but a business practice. Ditch the draw string bags. Ditch the business cards and stickers too. They are eco waste, and I am not a capitalist shill or brand fanboy. The product is good. I will buy it. Lose the extras and save me a few bucks.
Long lasting.
I have 4 aroma's 2 balms and 2 oils. Always in stock in my inventory. I use this being #1 long lasting and makes my beard soft and moisturized. Skoál..!
What's not to love?
Great scent, feels great in my beard, all natural ingredients, made locally