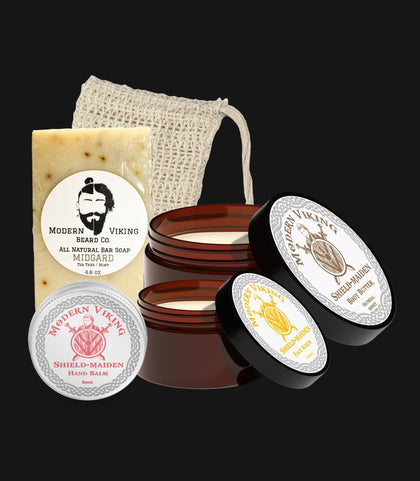 Love it!!
My husband and son have been purchasing beard products for years and love them. I wanted to try the women's products. They are great!! Love the cherry blossom scent. I have been so itchy and dry this winter but since using the body butter- my skin is so much better. No itching! The face scrub lathered up so nice when rinsing. My face felt amazing all day. The bar soap smells so good and lathers up so nice. Does not dry out my skin but still feel like I am clean. I am a health care worker and my hands get so dry they crack. The hand balm at night has done wonders. No cracks right now!! The scent of everything is so nice. I will be ordering again!!!!!
Awesome but pay attention
So I guess this does not come with a loofa? Also if you choose the "cherry" body butter, it's actually Cherry Blossom. I'm sure it's great but that will probably have to be re-gifted to some one who likes that fragrance, as it might trigger a headache for me. The Bar soap is amazing- Squeaky clean with out causing your skin to dry out. The hand balm is phenomenal. The citrus face scrub is very gentle although I don't think it had much of a citrus scent, it was gray in color so maybe there was charcoal as an ingredient, but it wasn't very rough like some sugar scrubs out there.