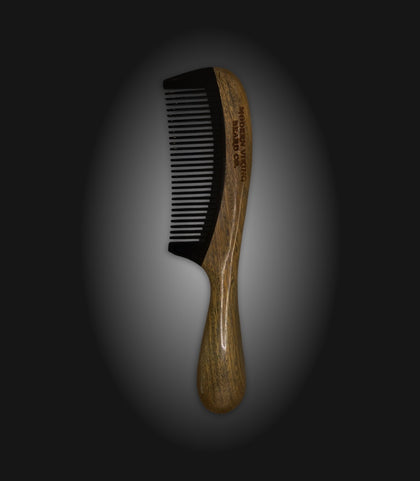 1
Use the desired amount of beard products
2
Rub into your palm till it becomes an oily consistency
3
Apply to your beard with your palms and fingers
4
Use your comb or brush to style your beard to perfection
Well made comb
This comb is VERY nice and combs through my husband's beard easily. However, he's made note that the handle is very uncomfortable. The rounded end is great, but it stops mid palm, leaving little control while combing. Unless he's using it wrong? We didn't see any specific instructions for how it should be held. Either way, it IS a really nice comb! Definitely would be interested in another with a longer handle. We've been very pleased with all the Modern Viking products!
Excellent comb
I first met this company at a Renaissance Festival. I bought the same comb then. I like it so much I had to get another one for my travel bag. Excellent comb.
Fine Tooth Comb
Very nice comb. Made extremely well with beautiful materials. Overall great product and great price. Very pleased with all the products that I have used from Modern Viking. Great Oil and Balm also at a great price. Try the Bay Rum it's my go to.