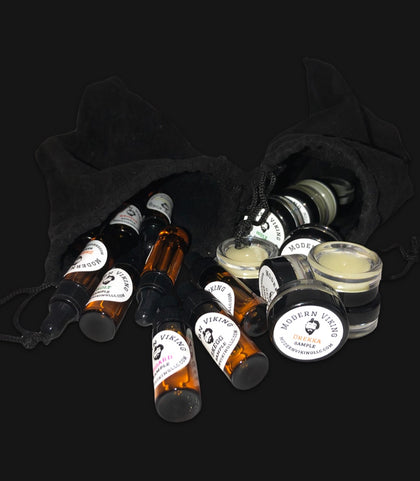 All Natural Ingredients
Apricot Oil, Grape Seed Oil, Avocado Oil, Coconut Oil, Jojoba Oil, Vitamin E Oil, and Essential Oils.
Sampler gift pack
I gave sampler gift pack to my son for his birthday. I asked a note include " Happy birthday, love
Mom" which wasn't included. Until I spoke with my son, he had no idea who the gift was from.
Praises
I bought these to have at my station at work. I love having a variety of scents to use. And the balm is phenomenal, I love that it provides moisture with just enough hold to keep a beard in ship shape, but not enough of any one thing to make it greasey or untouchable.
These are amazing!
I got this as a gift for my brother. I had no idea what fragrance he would want and now he can pick his favorite! My boyfriend uses this brand and it's made a HUGE difference. I get migraines that are often triggered by scents and smells. Not a single one of these oils or balms are too strong a scent to trigger a migraine and still manage to have a long lasting fragrance! Ordering some shield maiden supplies next!
Love the oils
After using all the brands I could find local. I found this company at renfest.
I bought a bottle of oil and a tin of balm.
They have done 10 times better while using less than half of any other I have tried .
Will definitely continue using this product.
Loved the sample pack
Love the variety that combo pack samples. Stamp office little metal a product dh1 so you can drive more than just once love that.