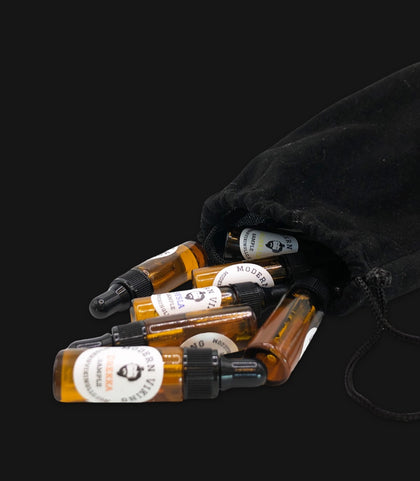 All Natural Ingredients
Apricot Oil, Grape Seed Oil, Avocado Oil, Coconut Oil, Jojoba Oil, Vitamin E Oil, and Essential oils.
1
Use supplied dropper to apply beard oil
2
Place half the dropper's oil in your palm (shorter beards use less)
3
Rub the oil into your palms and apply to your beard
4
Use your comb, fingers, or brush to style your beard to perfection
Sample pack
Have used many other beard oils and really enjoyed the scents modern viking has to offer great quality beard oil
Sample pack
I was very satisfied with the timely delivery, and the quality of products. All of the samples smell wonderful. Now I just have to decide which scent to order again.
You should ask after I use it..Not before.
Hell of a tamer
My husband has an untamable poof beard. Using the beard oil and balm kept it straight and manageable all day. They smell so good without the chemical smell of most products. They also helped with dry spots.
Excellent Samples
Great way to try out these outstanding oils! Definitely made me turn around and buy two of my favorites along with trying the beard balm sample pack as well.